Content curation trends in content marketing to watch out for in 2016
What is different about content curation in 2016?
Let's face it, there is no much difference except when the phrase 'it is not getting any easier' surfaces. Perhaps it was easy flipping through to 2016 and thinking that all the 2015 baggage had been left to slowly wash off in the sea.
But with most content marketers, the reality is that there is no room for pressing on the brake pedal. The common question that could be going now is what would content marketing in 2016 look like? The honest answer to that is that there is no clear-cut projection but the predictions are there alright.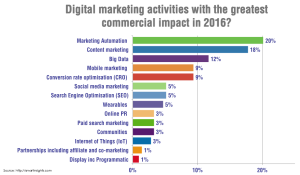 According to Volker Jaeckel in Marketing Nook, at least 2.8 million blog posts get published every day. Even so, content marketers are channelling a huge bulk of their resources and time in creating more content. Latest CMI/MarketingProfs statistics have that 77% of content marketers are planning to curate more content in 2016 as compared to 2015.
But even as the move to accelerate the production of content remains high, the 'why to' helps guide any marketer looking to build their digital marketing strategy in 2016. These three things easily sway marketers towards turning into content marketing:
To increase traffic on company sites, product pages and brand pages.

To increase engagement.

To boost the general awareness of brands.
It is for these and many other reasons that build around these, trends have become almost too visible to ignore and predictions have been made. So then, how does it look like in the real world of content marketing in 2016?
Here is a list of what we have managed to gather from the experts.
Video content – the next big talk in content marketing
Happen to remember when no content marketer considered videos a tool for their marketing? I mean, who wants to go into too much work?
Well, taking an up-close at 2015 alone, it is clear that visual content has become almost every marketers talk. Visual content has quickly and effectively set the pace for engagement, and many marketers are not slowing in jumping into this ship. With Cisco predicting that video may take up almost 70% of the consumer internet traffic by 2017, it is almost evident that video marketing will sky rocket.
Brands will continue creating more video content, engage interactive features within their content and make use of live streaming apps.
Brands cum Content Curators
Technology has challenged traditional businesses with the continuous development of various technologies that appear to have only left space for embrace.
Today, anyone with a smartphone can access apps of their liking anywhere any time. Worse yet is that some of these apps have challenged the content curation industry with most of them allowing people to create content that matches TV or cinema screen standards in terms of production.
Nonetheless, this is not to mean that everyone is capable of creating amazing stories. Audiences will therefore lean more on the names they can trust to offer them the best. For this, more and more services are going to dedicate their time and resources into specialized curation.
Increase in interactive content marketing and relationship building
It is one thing to publish good content, and it is another to get an audience for it. Well, that's common, how about this:
'It is one thing to get an audience and it is another to get a loyal and trustworthy audience that can chew what you have to offer them.' Click To Tweet
Relationship marketing has taken a serious turn and is becoming a big trend. With brands focusing on growing relationships with their customers, engagement has become an important facet of content marketing. Advocating for a brand calls for a life-long union with a customer; earning their trust well enough for them to be your advocate.
Mobile Apps will be a big trend in content marketing
There is a huge lot that prefers engaging their daily social and professional life through mobile devices. The internet has undoubtedly become a home for many, and even with no particular agendas, most people will find themselves roaming the internet either as a distraction or in a move to get busy.
For marketers, this means paying much scrutiny to where the traffic is at. Further, this winds down the road of what are the preferred modes of access of information on the internet.
Statistics has it that despite the time spent on mobile at present being higher than that on desktops, there are only 12% of purchases that are made through mobile devices. This is a jackpot for marketers who are conscious about where their customers and potential customers are at.
eNewsletters and in-person events skyrocket
As part of a relationship building move, marketers are considering email marketing and in-person events as a lead horse in their 2016 content marketing strategy. With the desire to win more customers, a more personalized approach has been considered a great tool of attracting a potential client's trust.
Wrapping
---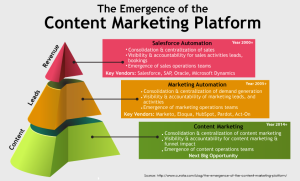 This is simply a forecast to watch for, as Edward Weyer puts it,
"The future is like a corridor into which we can see only by the light coming from behind." Click To Tweet
While predictions may not always hold, I have a 102% hunch that you don't want to side-glance these predictions.
Remember, when content marketing is done right, it is amazing how customers and prospects all of a sudden want to engage with you and your organization. And like the info-graphic above, content marketing is the next 'big opportunity'. 
---
Photo by Fancycrave on Unsplash